Starting a blog is easy, but constantly producing content is challenging. You need something that keeps you on toes like a content strategy for your blog. Well, you might ask yourself what a content strategy looks like. Join us as we take you through essential steps to building a content strategy for your blog. Before that, you need to know that your content strategy has to answer the following questions:
Why are we creating content?

What kind of content do we need?

How can we make the content achieve our most desired goals?
Our content strategy is lean with five simple steps, namely:
Define your goals

Perform a target market research

Develop topic ideas and keywords

Create a content calendar

Create amazing content
Define Your Goals
If there is one thing, you need not forget when blogging is goal setting. You need a clear picture of what you wish to achieve with your daily production of content. Goals will push you to wake up every day, knowing there is an end game to it all. Well, your goal should answer the question "why." The answers to this might look like: 
To drive more traffic to your blog

To generate more leads and increase sales on your website

To educate prospects and customers on new products you might be offering 

To update the customer on everyday business developments

To attract customers from a far place or maintain already available clients   

To create a brand or brand preference
Do not choose more than three goals for your content strategy. You need to limit what you focus on for maximum success at what you wish to attain. Moreover, be very specific with your goal, if you want to improve your traffic, set some percentage, maybe enhance your traffic by 20% in four months.
Perform a Target Market Research
You need to know the people you want to reach with our content. This means you will dig deep into what they are and understand them. Your target market research should ask the questions:
Where my audience spends most of its time online? Such as blogs, social networks, online forums, and social media groups.

What is their biggest problem at work? Such as commuting, HR issues, etc.

What kind of content do they enjoy reading?
Another thing to research is why they buy (psychographics). Some people hire academic writing services to save them the hassle. The answers to the above questions will stir lots of content share, which is part of what you need for your blogging to work.  
Develop Topic Ideas and Keywords
Keywords are the backbone of any content marketing strategy. Your keywords are the reason you will rank well on search engines. Ranking well on search engines has a positive effect on your traffic. So how will you do your keyword research?
Get keywords that rank highly and that have lesser search competition

Write good content with the keywords spread across the title, body, headers, and image alt texts. Keyword should be no more than 3 to 7 times in the article

Use the keywords to get more backlinks to your website
Many things lead to your ranking high on Google like load speed, time spent on-page, and shares. The above three well done should help you move up on Google rankings. With the right keywords, all you need is to create a good topic. Some tools can help you come up with topics just by typing in your keywords. A tool like Moz Explorer will offer you an excel sheet with long text keywords that can be customized into good research topics. 
Create a Content Calendar
From the word calendar, you must have an idea of what this might look like. A content calendar keeps you on toes allowing you to create good content on time. Choose a content calendar with social sharing and email marketing information to keep you organized.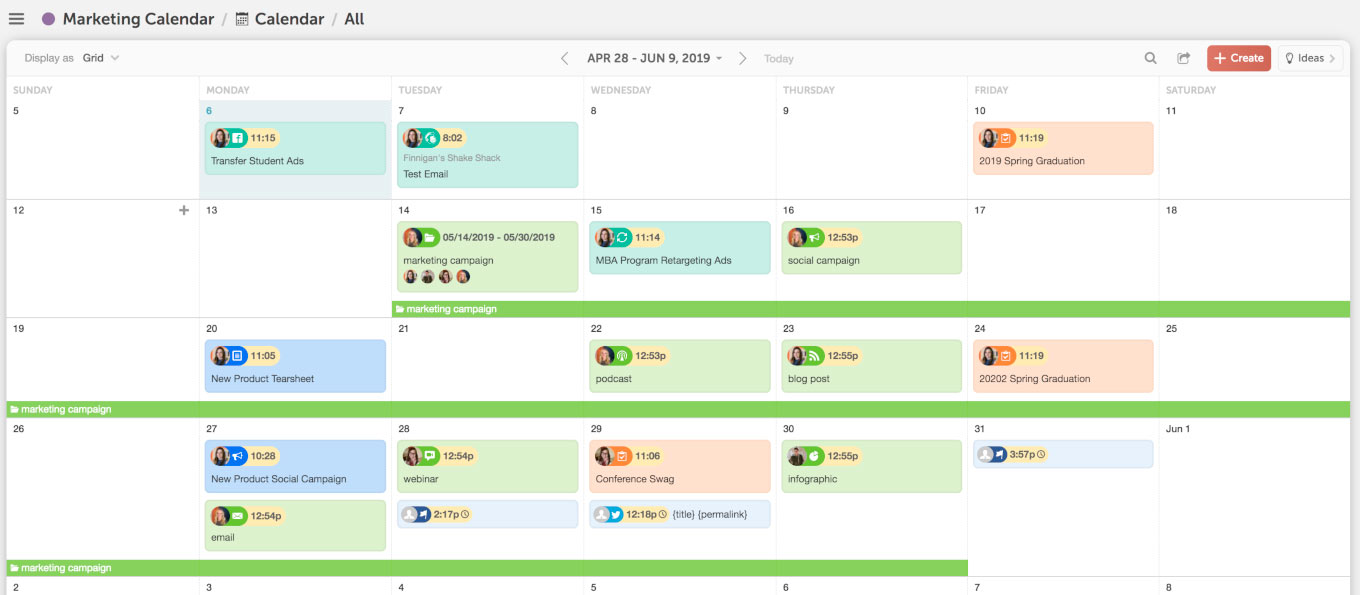 Content calendar example by CoSchedule
Another benefit of a content calendar is the fact that it allows you to make real-time updates to your content. The calendar allows you to have an eagle eye view on all content assets. One tool you can use is Trello or the Google Calendar to create a blog content calendar.
Build Amazing Content
Once you have your keywords, you know your target audience, and you have a content calendar, you now need to build your content. Good content is built rather than being created. Amazing content will be:
Well written with proper spelling and grammar without the unnecessary use of complex language.

Well researched. This means you have to use stats, examples, and case studies to back your content. Moreover, your content looks more credible when it possesses ounces of research proving the varied pieces of content. 

Media-rich in its nature. Apart from the content used, apply high quality and relevant images. Mixed content is more engaging than plain content. Some images and videos make it fun for your audience to go through your content. Choose good media, and be careful not to lose your speed to heavy media. Remember, some of the reasons people might leave your page are due to slow load times.
Boost Your Blog, build a Content Strategy
You might think that is it genius to write your content straight from your mind, but a content strategy offers you plenty besides just naturally produced content. Try a content strategy and see how organized it makes. Creating one will not take you long, and it will save you the headaches of having to stay the night doing brainstorms on what might be the best content for the next day or week.  Remember the saying that if you are given a tree to cut down in four hours, it will be appropriate to spend some of that time to sharpen your ax. A content strategy is a promise of better content, with less energy and less pressure. All you need to do is to follow these simple steps and enjoy the benefits that will come after that.  
About the Author: Daniela McVicker is a professional content manager for Top Writers Review and a hobby blogger. She enjoys reading classic literature and doing research on internet marketing. Her favorite pastimes are to write, listen to jazz tracks and take quiet walks.